The
VOLCOM FAMILY
is a
WILDLY DIVERSE
group of talented
HUMAN
beings:
SURFERS, SKATERS, RIDERS, MUSICIANS, ARTISTS,
and
COMMITTED CREATIVE INDIVIDUALS
who simply refuse to settle. They are more than just dreamers. They are doers. The diehards.
PUSHING IT FURTHER.
Sweating every detail, unwilling to relent. They are uniquely driven souls
WHOSE ACTIONS SPEAK MUCH LOUDER THAN WORDS.
Charging forward in all environments and fueled by an unyielding dedication to craft.
THIS CREW—OUR CREW—IS THE RAW EMBODIMENT OF VOLCOM'S TRUE TO THIS IDEOLOGY.
Channeling their energy, their potential, and their passion.
THEY ARE COLLECTIVELY SHAPING TOMORROW, TODAY.
Volcomgratulations to our team.
Esta es
LA FAMILIA VOLCOM
es un grupo
SALVAJE Y DIVERSO
de talentosos
HUMANOS
ellos son:
SURFISTAS, SKATERS, RIDERS, MUSICOS, ARTISTAS,
y
CONCENTRADOS EN SU HACER
quienes simplemente reusaron a seguir sentados. Son más que soñadores. Ellos hacen. Duros de cambiar.
VAN UN PASO ADELANTE.
Sudando por lo que quieren, no existe paso a tras. Ellos son almas únicas en avance
SUS ACCIONES HABLAN MÁS QUE LAS PALABRAS.
Llevan adelante sus creaciones sin importar que suceda, alimentados por una dedicación
"TRUE TO THIS" "REAL HASTA CONSEGUIRLO" ESTA ES LO QUE NOS DEFINE A NOSOTROS, NUESTRO EQUIPO VOLCOM.
Canalizando la energía, el potencial, y la pasión.
ESTAN CAMBIANDO EN CONJUNTO EL HOY Y MAÑANA.
Volcomfelicitaciones para nuestro equipo.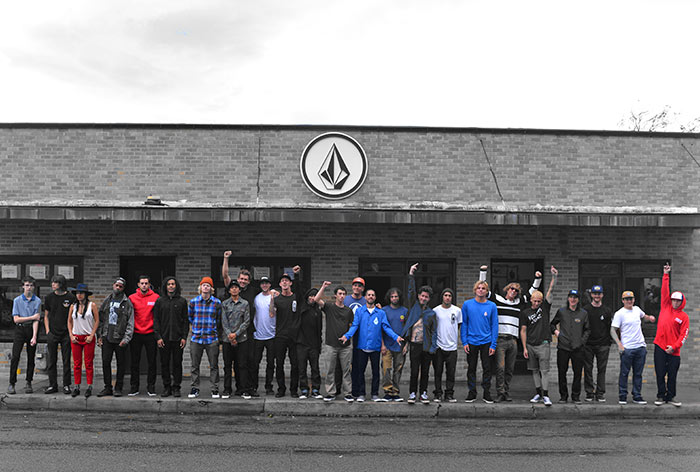 Encuentra todos los productos Volcom en nuestras tiendas y se parte de este movimiento en constante avance!